Keep us updated and stay connected with us online! The Evolution of Braces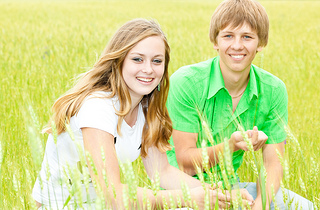 Until recently, the only option for people who need braces was the traditional type in which a wire threads through a bracket that attaches to each tooth. Both the wires and the brackets extend across the breadth of the mouth. Pressure from the wires moves the teeth into the proper position.
For most patients, traditional braces are far from ideal. They are often very uncomfortable for the patient because the ties that connect wires to the teeth prevent them from moving. Ties are used to create heavy force, but the force cuts off the blood supply between the root of the tooth and the bone surrounding it. Teeth can't move until the blood flow is restored.
The Damon System aims to guide teeth gently and continuously, and reduce the use of force. Patients have reported that the entire experience of wearing braces is a lot more comfortable. Proud to offer the Damon System to patients, Drs. Neil Warshawsky, Colleen Kristofor, Jennifer Haskell, and Ketti Boller can help you better understand if it's right for you.
How the Damon System Works
Unlike traditional treatment with braces, the Damon System doesn't require the removal of teeth or the use of palatal expanders. The system uses unique self-ligating braces, in which a specialized clip with a "door" replaces elastics or other ties. The "door" guides the archwire, and allows the teeth to move gently into the proper position. Because of the increased flexibility of the self-ligating brace, it exerts less pressure on individual teeth, and this means you won't have to get adjustments as frequently.
Another advantage is the fact that the gentler, low-friction force means you won't experience the long-term discomfort from intense pressure on your teeth, or the tight wires that are so common with traditional braces. Because there are no ties, Damon braces are also much easier to clean.
Three Components of Damon System
There are three components of the Damon System that create faster results, require fewer appointments, and cause less discomfort for patients.
Because the Damon System doesn't use metal or plastic ties, there is no need to tighten the wire on the braces.
Lightweight shape-memory wires allow teeth the freedom to move faster, without the need for as many adjustments as occur with traditional braces.
The Damon System realigns teeth and enhances facial appearance without extracting teeth or using rapid palatal expanders. The slide mechanism of Damon braces facilitates faster, more comfortable repositioning of your teeth.
Damon System technology can offer you the option of braces that require fewer adjustments, with less pressure on the teeth and the entire mouth. A discussion with Drs. Neil Warshawsky, Colleen Kristofor, Jennifer Haskell, and Ketti Boller will help you determine whether the Damon System is the best option for you or your child.